The National Health Service available in Bangladesh is a basic and inexpensive service which aims to keep you reasonably dentally and medically fit. Its structure and funding do not extend beyond that basic defined aim. Thus there are limitations to NHS care.
view details ...
Dr. Rifat and Dr. Nabanita are experienced Dental Surgeon with their private practice in Dhaka, Bangladesh and provide one of the most technologically advanced practices, countrywide with state of the up to date sterile equipments including Dental & Aesthetic Laser, biocompatible natural oral, dental and health products.
Their main objective are to make you and your family feel relaxed and confident when you visit Rifat's Dental Implant Laser Cosmetic Care.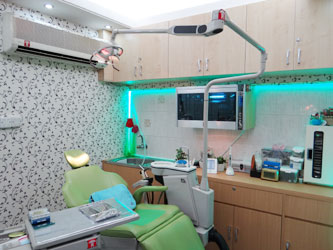 Appointment over phone is mandatory.
Please Call: +8801819278299 for Appointment
Welcome to House of Bio-Naturals at Rifats Dental Implant Laser Cosmetic Care with all Bio-compatible Dental & Health Products.
GET PERMANENT VISIBLE RESULT OF YOUR FACE/SKIN AND HAVE A COMPLETELY NEW LOOK BY WORLDS FIRST 3RD GENERATION SKIN AUTO ANALYZER LASER SYSTEM, THAT YOU NEVER BE DESIRED USING THOUSANDS OF COSMETIC PRODUCTS IN YOUR WHOLE LIFE @ Rifat's Dental Implant Laser Cosmetic Care
OUR LASER AND OTHER TREATMENT PROCEURES ARE COMPLETETLY PAINLESS, MOSTLY BLEEDING FREE WITH HIGHEST SAFETY, EFFICACY, RELIABLITY & WITHOUT ANY SIDE EFFECTS
Our Specialities:
Complete Sterile up to date Equipments & Friendly Environment.
Auto Clave, Ultra Violate and Ozone Sterilization we strictly maintain.
Environment Sterilization Facility when needed.
Completely new addition Multifunctional Laser System for all Non Surgical Cosmetic & Surgical/Non Surgical Dental Treatment purpose. (For Details please see below).
Dental & Health Consultation & Diagnostics.
Screening through Intra Oral Camera.
Dental Hygienic Treatment.
Digital Ultrasound Scaling Polishing System.
Teeth Whitening Facilities with Latest Whitening Kits.
World Class Biocompatible Natural Dental Filling & Aestetic Filling.
Appropriate RCT through Apex Locator Technology, Biocompatible Sealer & Pulp Vitality Tester.
Natural Porcelain Crown-Bridge Procedure.
Orthodontic Treatment.
Dental Implant Restoration Facilities including all Technical Support.
Major & Minor Oral-Dental Surgery & Facilities to all other Dental Prosthesis.
Latest third generation Fire-Xel Fractional Non Surgical Laser Treatment for Skin Tightening, Fine Wrinkles Rejuvenation, Acne Treatment, Scar Removal, Dark Spots, Pores Treatment, Melanin Depigmentation, Brightening of Skin, Birth Marks Elimination & any Cosmetic Treatment.
Latest Super Pulse Dental C02 Laser for Root Canal Sterilization, Bleeding & Painless Gingivectomy/ Operculectomy/ Surgery, Implant 2nd Surgery, Disinfection of periodontal Pocket, Gum Cutting, Pulp Capping, Abscess Treatment, Frenectomy, Stop Bleeding After Extraction of tooth, Herpes & Oral Ulcer Treatment etc.
WE ARE ALSO OFFERING THE FOLLOWING FACILITIES WITH OUR WORLDS FIRST 3RD GENERATION LASER SYSTEMS INCLUDING AUTO SKIN ANALYZING:-
Skin Tightening
Fine Wrinkles Rejuvenation
Acne Treatment
Acne Scar
Wound Scar
Heavy Scar/Keloid Removal
Dark Spots Elimination
Large Pores Treatment
Melanin Depigmentation
Brightening/Whitening of Skin
Birth Marks Elimination
Pregnancy & stretch Marks Elimination
Restore of tone glow of Face/Skin
Rejuvenate Sun Damage Skin
Medium Face Resurfacing
Full Face Resurfacing
Clear up Dark Patches
Freckle, Wart, Callus, Condyloma, Liver Spot's Treatment
Lifting Facial Skin
Surgical Scars, Traumatic Scars, Buring Scars, Striae Elimination
Rejuvenate Photo Damaged Skin/Pigmented Skin
Full Face Skin Rejuvenation
And any Cosmetic Treatment
The standard recommendation is to visit twice a year for check-ups and cleanings. This frequency level works well for most people.
Patients with implants, crowns and some people with gum disease, a genetic predisposition for plaque build-up or cavities, or a weakened immune system might need to visit the dentist more frequently for optimal care.
Important Reasons for Twice-Yearly Visits:
To allow your dentist to check for problems that you might not see or feel including early signs of decay.
To treat any other oral health problems found (Generally, the earlier a problem is found, the more manageable it is.)
What Happens At The Typical Check-Up Appointment?
We Offer The Latest Technology in Dental Care
Contact us today to schedule an appointment for a New Patient Visit.
Don't hesitate to Contact us discuss any aspect of your dental health or to talk about our creative financing options - no-one should be denied the proper dental care because of money.